Join us as we take you on an exhilarating journey through the Magruder Trail, where three different vehicles embark on a thrilling camping and exploring expedition.
Elk City - Starting Point
Elk City Idaho is a small community – much smaller than our hometown of Sisters Oregon. The population, as of 2020, is 170. Good things come in small packages! It was once a boom town when gold was discovered in 1861. When mining played out 80 years later, timber harvesting took over and is still an economic mainstay. Elk City is lesser known as a gateway for the Southern Nez Perce Trail – now commonly referred to as the Magruder Corridor. The Magruder is a 120 mile primitive route over the Bitterroot Mountains that connects Idaho to Montana. It is wild, raw and a scenic for overlanders. Although a rough trail had existed through the Bitterroots since the 18th century, the current road was originally constructed by the Civilian Conservation Corps (CCC) in 1930. Fifty years later, the corridor became an official national treasure when the Central Idaho Wilderness Act was passed. It was named after Lloyd Magruder, a miner and respected businessman of the mid-1880's, who was robbed and murdered by fellow travelers along the route. Lloyd would want us to remember to choose your travel companions wisely!
---
Preparation
In the past, we have always traveled from Oregon to Montana via Lolo Pass or Salmon Idaho. Either route would take us near Darby Montana – an area rich with recreation. So, when a good friend decided to hold a rendezvous at his newly acquired Montana ranch, we started looking for a new scenic byway. We had heard of the Magruder Corridor but knew little. That was about to change. After a few phone calls, we had a small group of three couples and rigs game to explore. The plan was simple. We agreed to meet near Lewiston Idaho and head north to Grangeville. From there, we took a winding Hwy 14, along the South Fork of the Clearwater River, until the pavement ended in Elk City. The ranger station gave us the latest road conditions and weather report and provided us with useful information. The Guide to the Historic Magruder was an especially helpful pamphlet as it identified, by milepost, lookouts, campgrounds and other points of interest.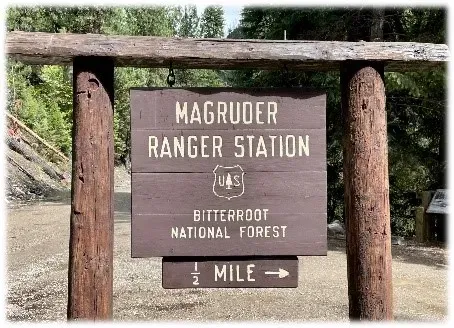 It is important to note that the Magruder Corridor weaves through some of the most remote wilderness in the United States. Although much of the route is easily managed by a high clearance vehicle, there are sections and side trips that require 4WD and low range to navigate the rock-strewed shelf road sections and deep ruts. Trailers are not recommended due to several very tight switchback sections. Carrying tow and extraction gear is encouraged in addition to radio communications between rigs. A breakdown halfway through the corridor would cost a small fortune in tow services. Needless to say, make sure your rig has been recently maintained and travel with a friend… hopefully a trustworthy one!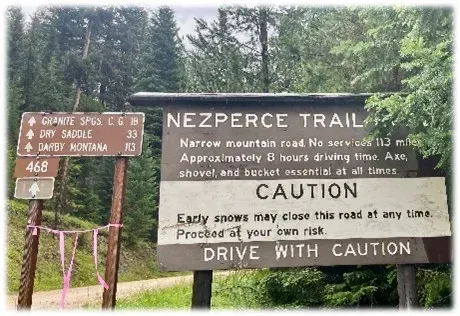 Before leaving Grangeville, be sure to fuel up and resupply as Elk City has limited services. Plan to take several days to complete the trip. (We took just two days and felt rushed.) Focus on the journey, not the destination. There is a lot to see including fire lookouts, old Ranger Stations and century old bridges. You will also find numerous trailheads ranging from short hikes leading to vantage points or to high mountain lakes. Just be sure to bring along some bear spray or another means of protection.
---
The Rigs
On this trip, there was an EarthCruiser EXP, A Tundra/FourWheelCamper Hawk and a Dodge Ram/FWC Hawk Flatbed. All of the vehicles have spent plenty of time off-road. Both the Tundra and Dodge Ram had modified suspensions, oversized tires, air compressors and winches – all standard equipment on the very capable EarthCruiser. Each rig was also equipped with tool, tire repair kits, extraction gear, Ham radios (for short and long distance communication). Fortunately, the vehicles performed exceptionally well – a testament to their capabilities, maintenance and drivers' skill. Our co-pilots also did a great job of navigating!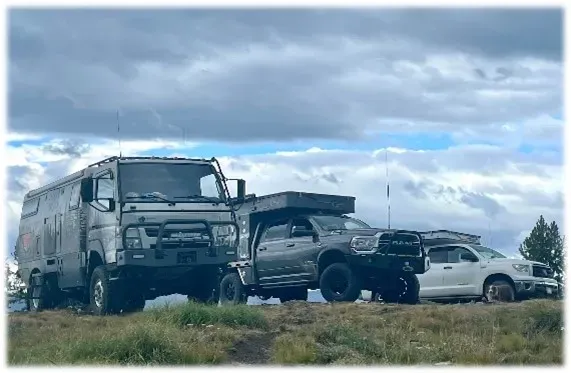 ---
Magruder Corridor - Day 1
The official start of the Magruder is several miles southwest of Elk City. We passed green pastures and grazing cattle at the forefront of hills loosely shrouded by low lying clouds. A few homesteads parted the tree line. Bitter cold winters and hard work have a way of sparely populating an area.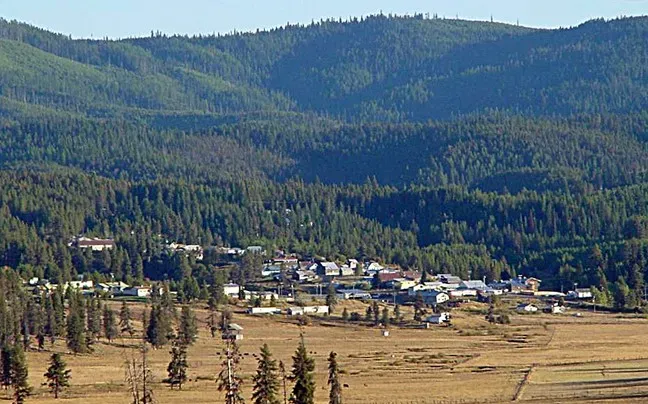 Upon leaving pavement, we were promptly greeted by a welcome sign citing mileage and a travel warning. Darby Montana was only 90 miles away on dirt that can muddy or heavily rutted by rain. As a group, we took the time to air-down. Our bodies and rigs would certainly benefit from the softer ride. After only a few miles it was necessary to engage 4WD as the wet (and sometime slick) road began a long ascent. It had rained just a few hours earlier. We were quickly engulfed in a dense and healthy forest with 'peak-a-boo' views at random intervals. Radios between the three rigs were constantly keyed up. Each of the couples were seeing something the others had missed. Then surprisingly, the trees would then take a step back to expose an inviting meadow. A prelude of what would come. One of the first primitive campsites along the corridor is aptly named Mountain Meadows. The expansive meadow of green, yellow and orange tugged on us to stay and make camp. But the afternoon was still young and the lure of Magruder came pulling us further down the road.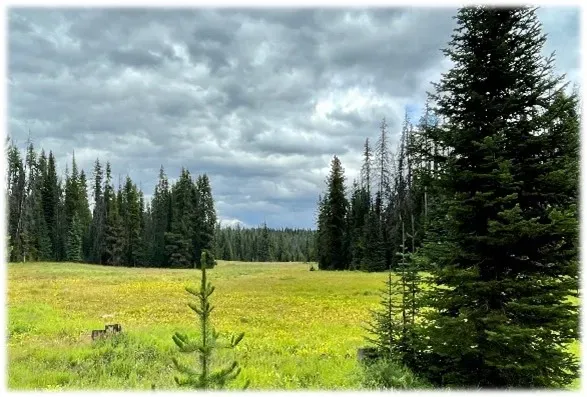 Shortly after passing Granite Springs Campground (located atop an exposed mountain saddle) we took a detour up Elk Mountain Road to the first of several look out towers. The 4 mile long road was a little rough and required 4WD but the short hop was worth the 360 degree view from Green Mountain. Like contrasting segments of a pie, some sections bore the limbless white ghosts from fires within the last two decades. Adjacent sections of forest displayed multiple shades of green. Fireweed provided a sprinkle of bright color at our feet. After a few photo opportunities, we turned the vehicles around with happy hour in mind.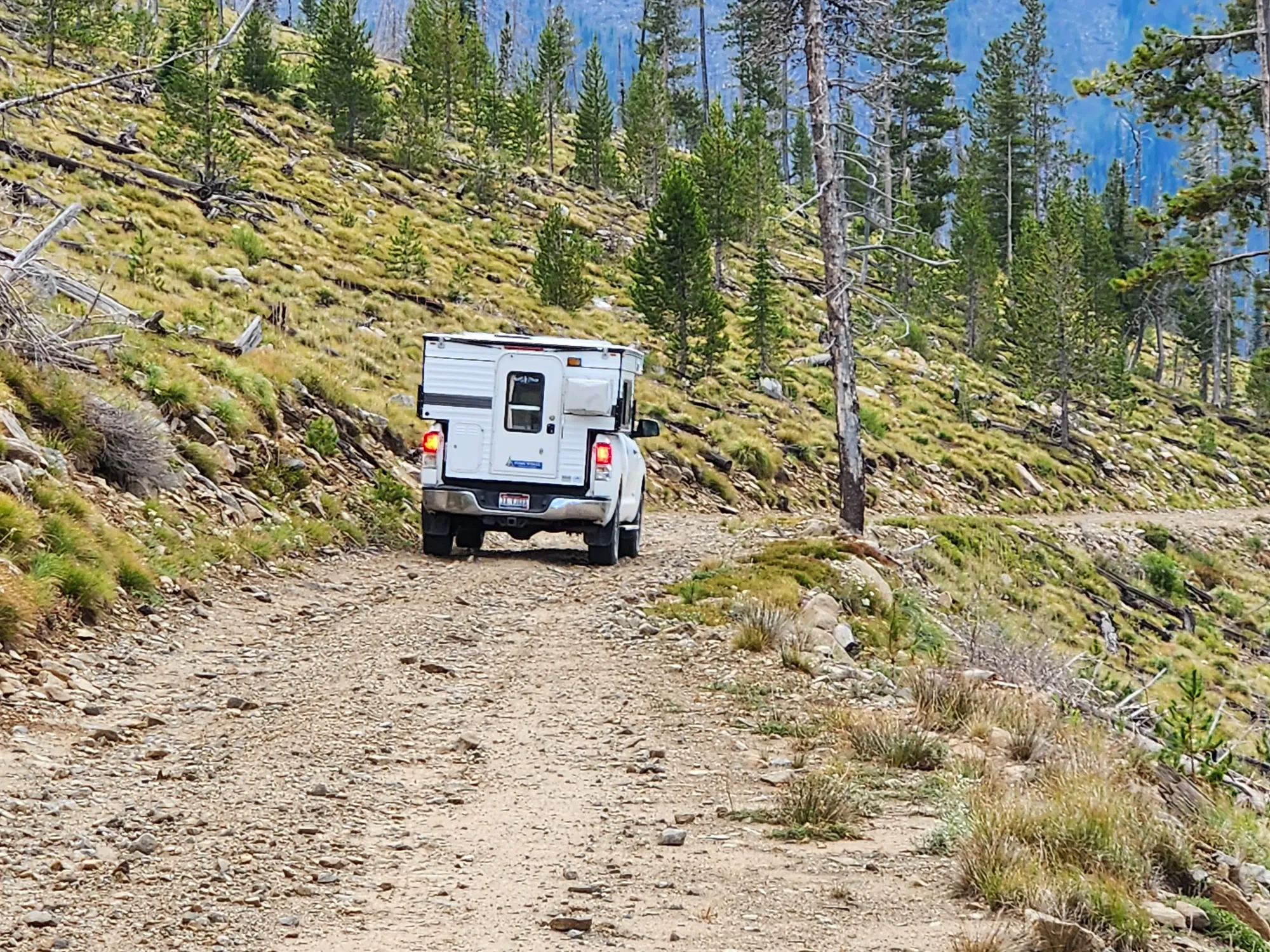 The next ten miles offered vistas that alternated from the north and south side of the road. We were so busy taking in the early evening layers of mountains and clouds that we hardly noticed the steep descent into Poet Creek Campground. Not until we got our rigs positioned for the evening did, I notice the smell of brakes. It was a timely reminder to take the grades slow, gear down or use 4WD low to help brake the vehicle.
---
First Night Camp Site
Our stay at Poet Creek Campground was lyrical. The soft babbling creek seemed to wash away the stress that comes from a long day on the road. Three rigs, four campsites, a pit toilet, plenty of elbow room, a trailhead and no fees. We had the campsite to ourselves. The forest service does such a very good job maintaining small primitive campsites. Even though we prefer dispersed camping, they are hard to pass up. (Every site we came across was either on a creek or meadow or had an incredible view.)
After a short hike to stretch the legs, the drinks, appetizers and stories started to flow faster than the creek – and continued around a campfire. It was a perfect evening with good friends. Gretchen and I have known Brent and Cheryl for several years. We have traveled around the Southwestern states with them including a trip to Baja Mexico. They savor the journey and are one of the few EarthCruiser owners that actually use their vehicle for extensive overland trips. More recently, we met Mike and Karen at a Four-Wheel Camper rally in California. Their combined wit and humor keep the fun in any trip. Best of all, they are capable traveling companions that have your back and are excellent at spotting potential obstacles.
---
Magruder Corridor - Day 2
Our small group left Poet Creek filled with anticipation. The road began to climb steadily and slowly deteriorated (and narrowed) over the next 10 miles when we finally approached Dry Saddle Trailhead. At an elevation of 7900', it is the highest point on the Magruder and a good spot to take a break. The vistas were simply stunning. We could see layers upon layers of mountains, each getting darker than the preceding range. This is the halfway point in this vast wilderness. Like flipping a light switch, the road turned from bad to worse within a few hundred yards. The narrow and rocky shelf road descended for about 8 miles and then climbed back up for the same distant.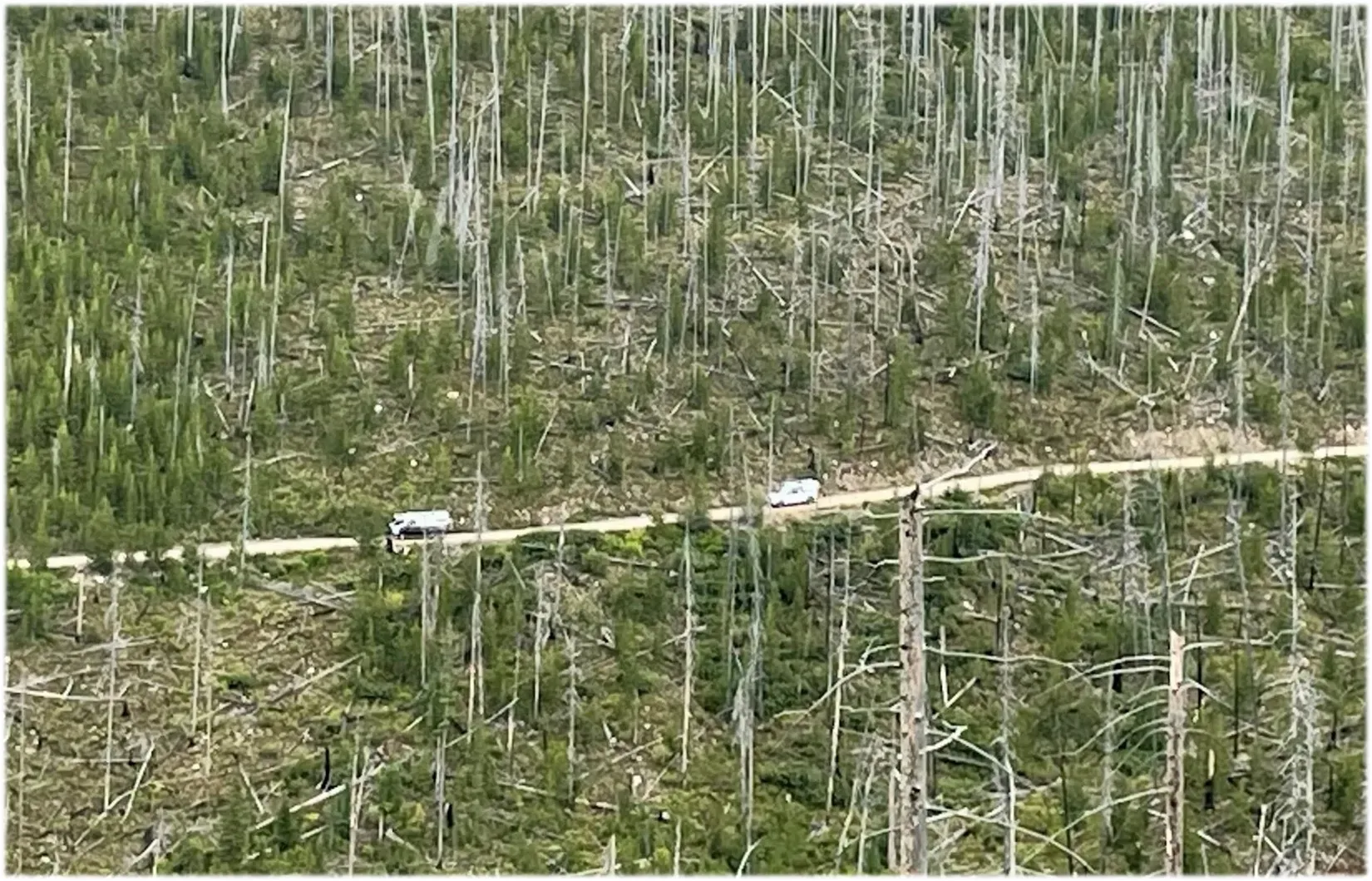 It is not a section where you would want to meet any approaching vehicles. We had to stop and let 9 adventure bikes pass. Anything larger would have required some tricky maneuvering. Except for a single SUV much further down the trail, these were the only vehicles we saw the entire day! All of us moved slowly along in 4WD low. It took 2.5 hours to travel 9 miles – a little faster than a fast walk. We found the views at Sabe Mountain to be breathtaking. Nature was busy at work after a devastating fire 15 years ago. We found ourselves surrounded by black and grey limbless trees in front of mountains of granite. A perfect black and white painting that would be worthy of Ansel Adams.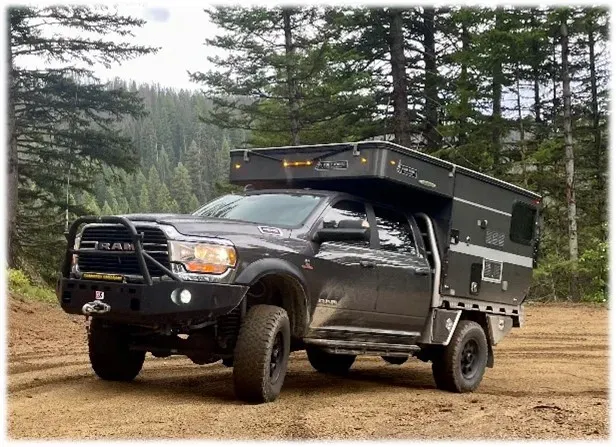 Our next stop was Horse Heaven Saddle – aptly named for the plentiful gazing area. Just a stone throw from the road is the Horse Heaven Cabin. Built in 1930 by the CCC, this one room cabin, complete with wood stove, can be rented through Recreation.gov. At Observation Point we got a 270-degree view of the Bitterroot Mountains. It was humbling to trace the road, a thin cutline in the mountains, from where we came and then see where we were heading. Like dragging an endless string up and down mountains and around bends.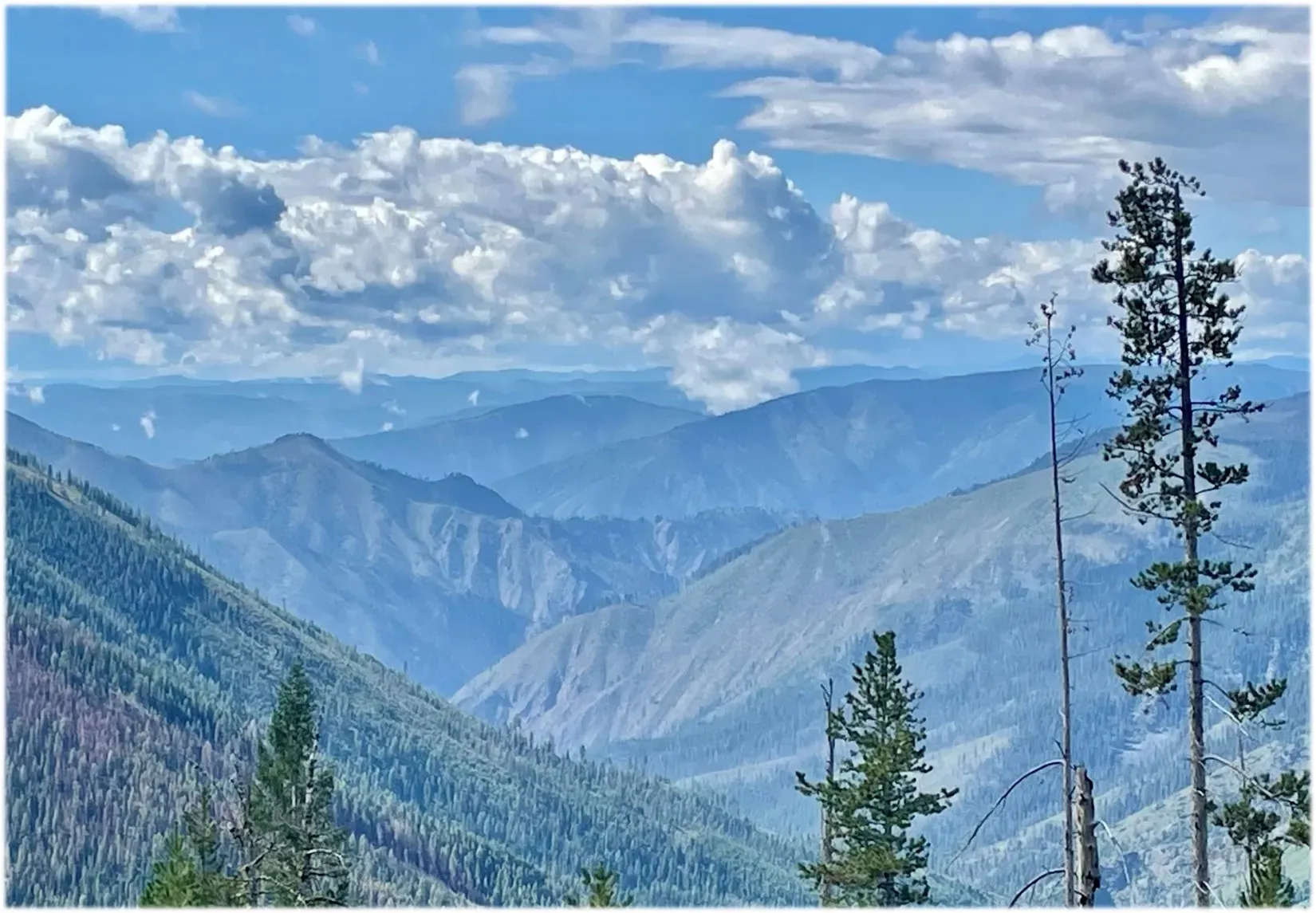 The final 30 miles vanished under our 35-inch tires too quickly. The roads slowly began to smooth out as we dropped elevation and traded out shelf rock for dirt and gravel. We welcomed a brief rain shower as it eliminated all dust and made the lush forest and ferns pop with color. On the backside of the route, we passed a placard depicting the Magruder Massacre Site, descended further into the Selway river drainage and then crossed over a bridge of the same namesake. One by one, our vehicles weaved around corners under a canopy of firs and pines. The fresh smell was intoxicating.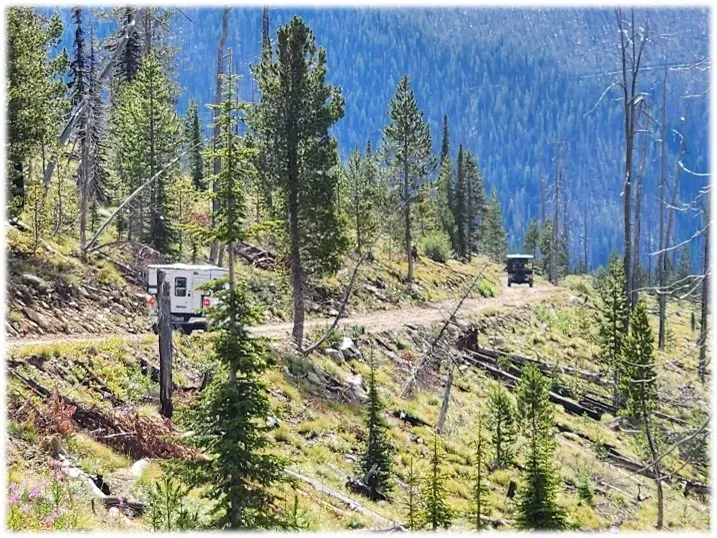 If you opt to travel the Corridor, take the time to visit the Magruder Ranger Station. We spent nearly an hour walking the grounds and peering through windows. Constructed in 1936, again by the CCC, it is a classic example of a station from a simpler time. A shop, storage building, and barn compliment the main structure. There is another cabin, larger than that at Horse Heaven, which can also be reserved and rented.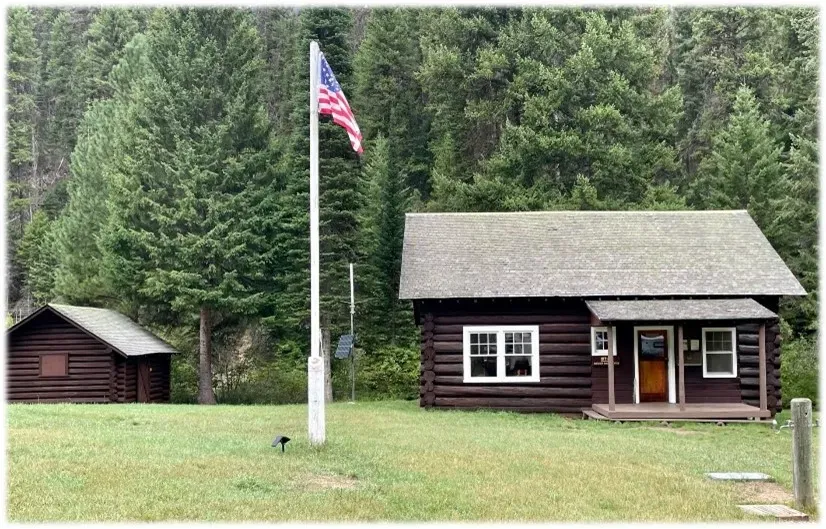 We took a short lunch break at Deep Creek Campground before passing the remnants of the original CCC camp. There, the road alternated between pavement, dirt and gravel. Hold off from airing up until you have passed Fales Flat Campground. The last few miles along the Bitterroot River served as a gradual transition into Darby Montana.
---
Conclusion
Would we drive the Magruder again? We already did! After the rendezvous in Helena Montana, a couple of friends wanted to experience what we did just a week ago. Over the years, we have learned that you always see something new a second time through – especially when traveling in the opposite direction. And we would be traveling with friends… something the Magruder taught us that help make for a successful trip.
Gary and Gretchen Matos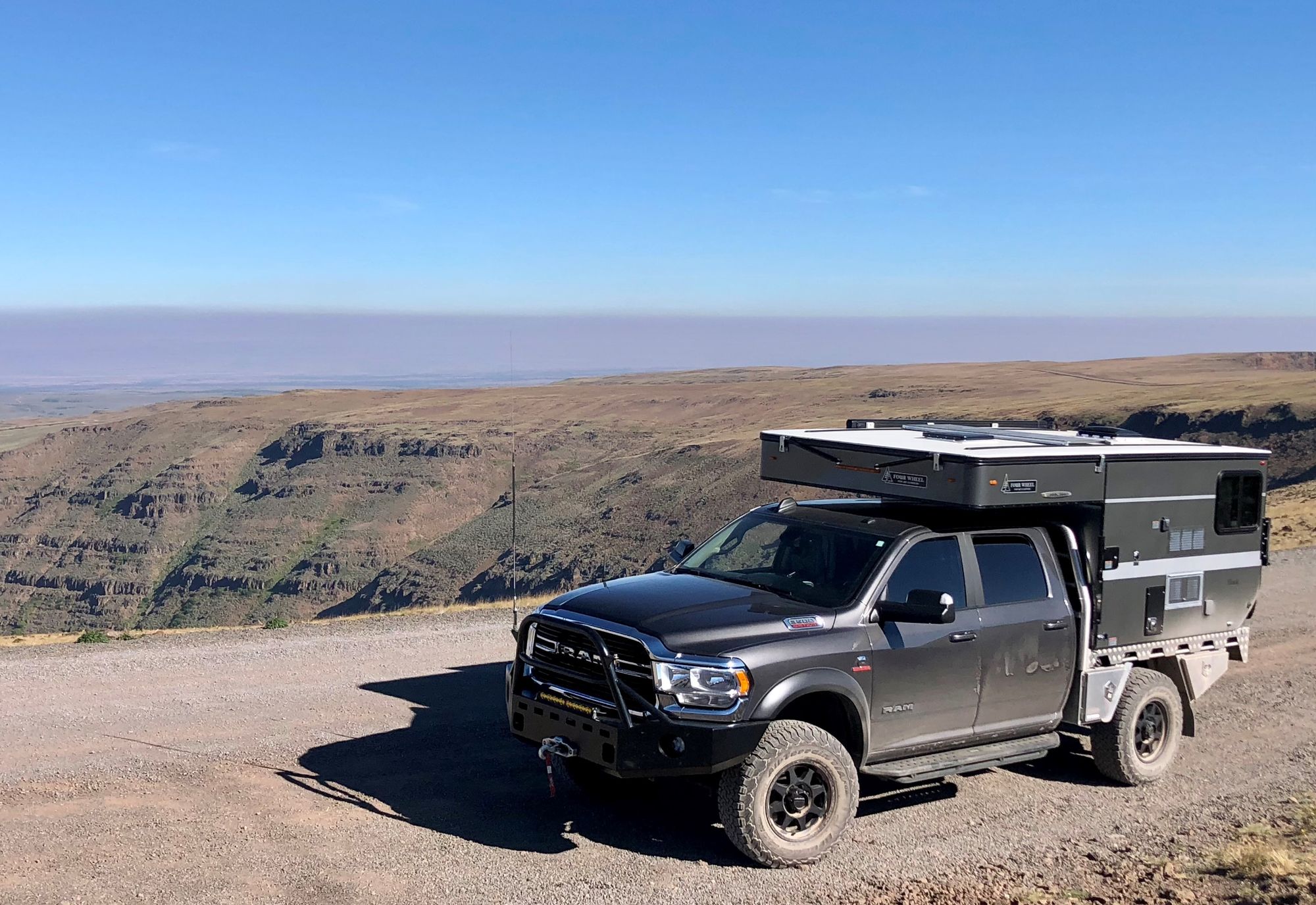 ---
---