I watched the sun go down past the distant mountains. The sky went from dark blue to an orange red with the clouds providing a silver outline.  As I sat at the future homesite on our property, I realized why Montana is called "Big Sky Country".
Why Montana
In the summer of 2020, Cheryl and I started having discussions about where to live in retirement.  Being 10 years away from our retirement dates we wanted to secure some land before it got too expensive. We put together a list of qualities we wanted in our final real estate project. My list included a secluded rural setting, enough land to raise some animals and a dryer climate. Cheryl wanted to be close to amenities, have an airport close by and a view. We started our search in Idaho, but before long the prices in most areas doubled. We broadened our search area in 2021 and the land of our dreams came available outside of Helena, Montana. The pictures below were taken on our first trip to see the property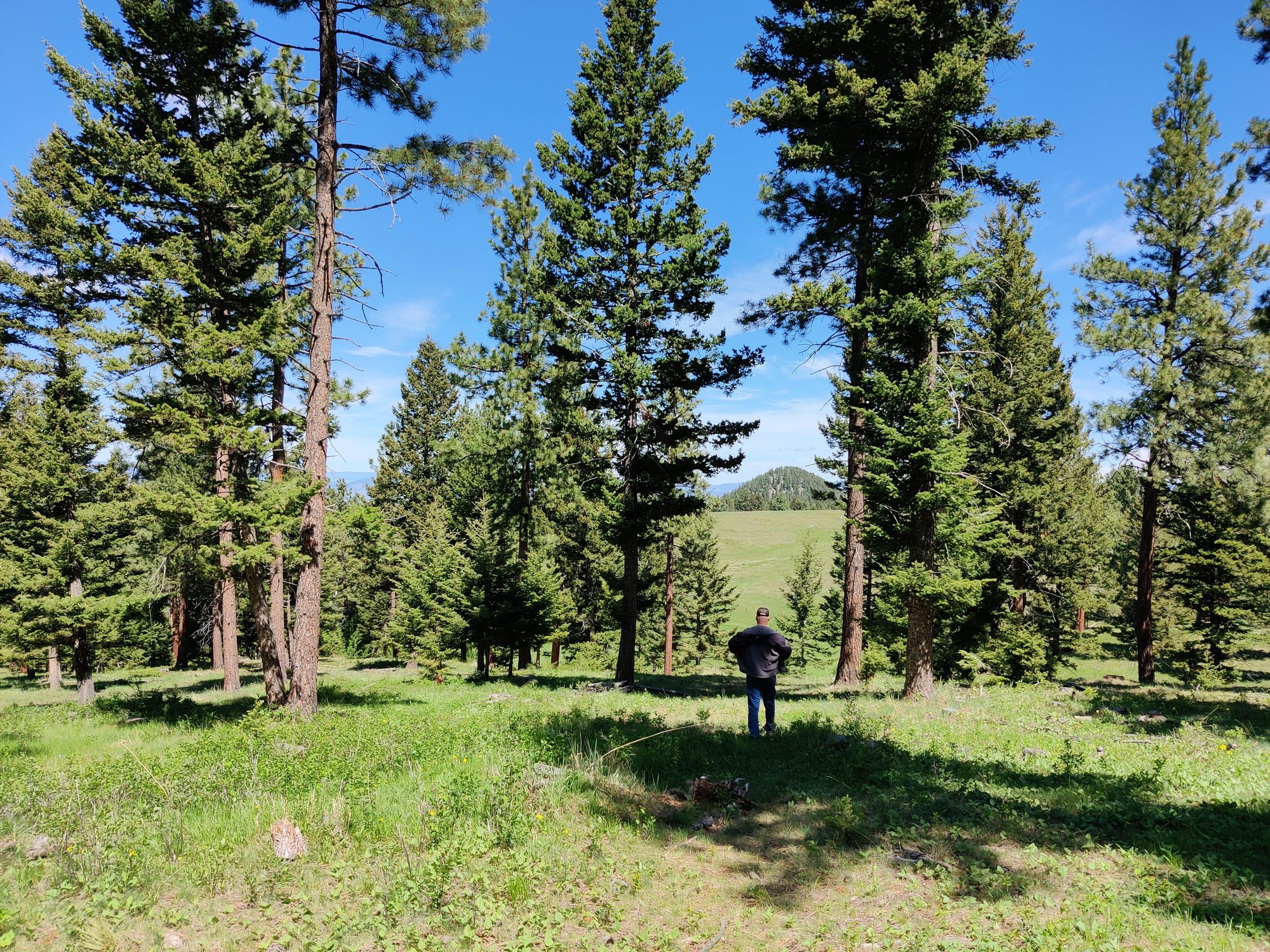 ---
Clean up
The old barn was falling down so we had to take it down.  We salvaged most of the poles and have future plans for them when we get a portable lumber mill someday. The pictures below are from a couple months after purchasing the property. Look how much dryer the grass is from the pictures above. We found some cool items in the old barn, including square nails, old horseshoes, some old tools and misc. tractor parts.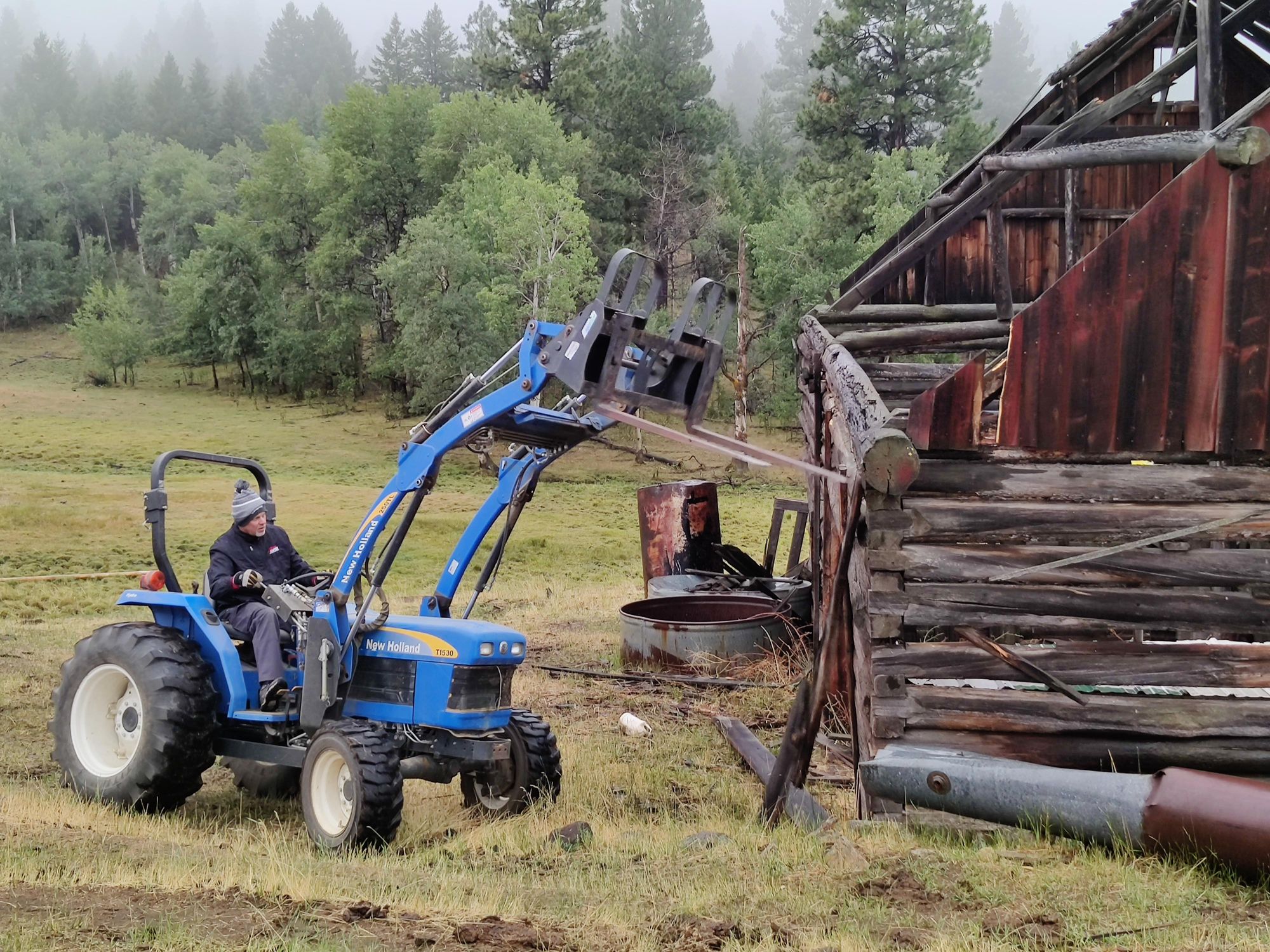 ---
Fencing
Next, we started fencing the front of the property.  A good friend Carl and I did the front 500 feet.  We put up a temporary entry with room for some gates. These will eventually be replaced with a formal entry that has electric gates with a keypad. Behind the tractor in the first picture below is our new post pounder.  It is a tow behind and sure makes easy work of putting in posts.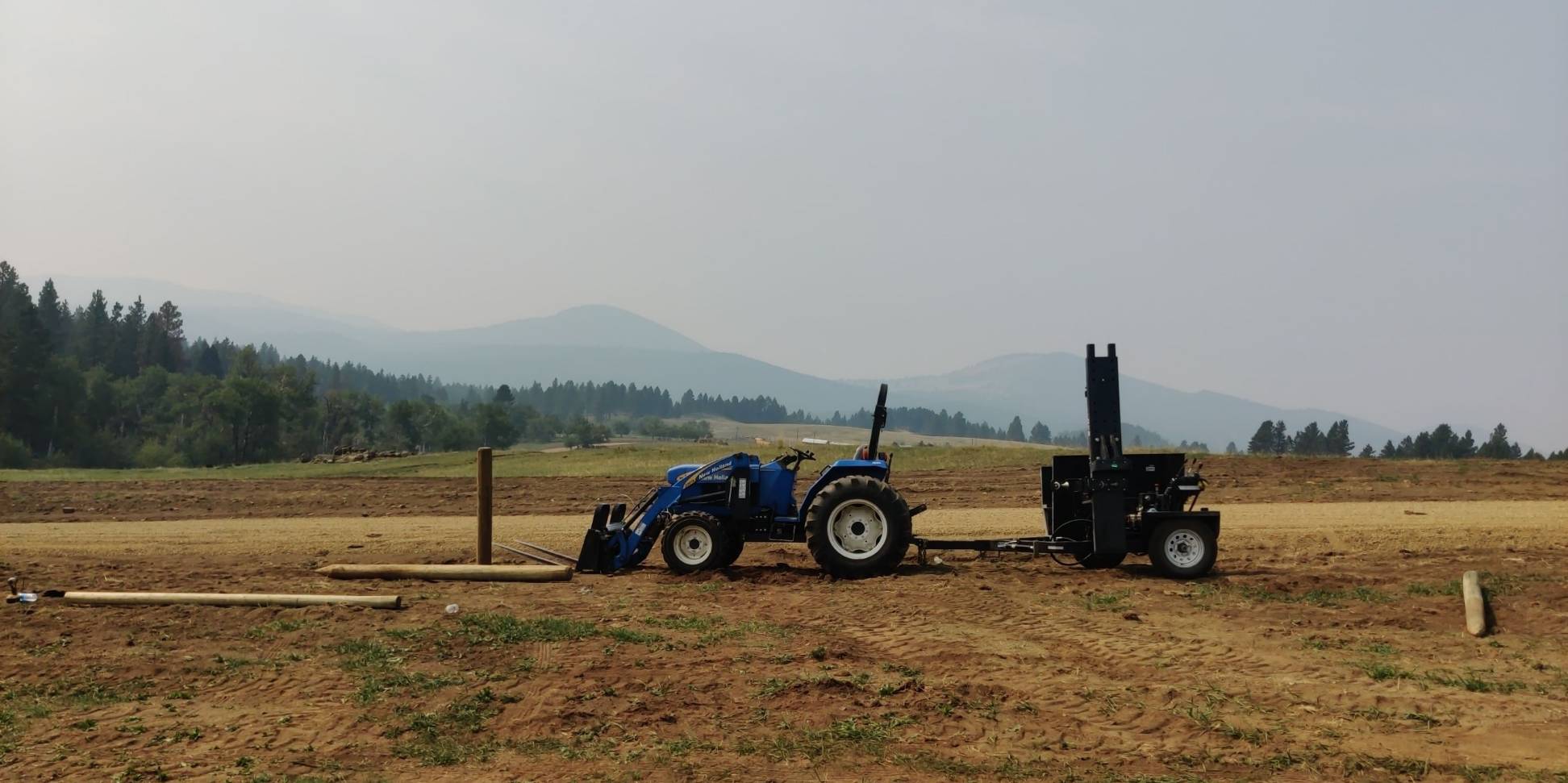 ---
Pole Barn & Well
One item on the property that was in good shape is the Pole Barn.  We are not sure when it was built but has newer rafters and sheet metal.  Another good friend Robin came over to work/visit and we installed electrical outlets and lights. We also put in another 1300 feet of fencing down one of the pastures. (The pole barn and fencing are shown in video below). The following week another set of friends visited and we installed more fencing, dug the septic perk hole and started sifting thru the old Sears & Roebuck's kit home.  If you haven't figured it out by now, visiting our future ranch means getting put to work!! Make sure to bring your gloves if you visit. The next item to be done was the well. The depth of the well is 475 feet, but we hit 200 gallons a minute.  This will be way more then we will ever need to irrigate the entire pasture along with serving the future retirement home.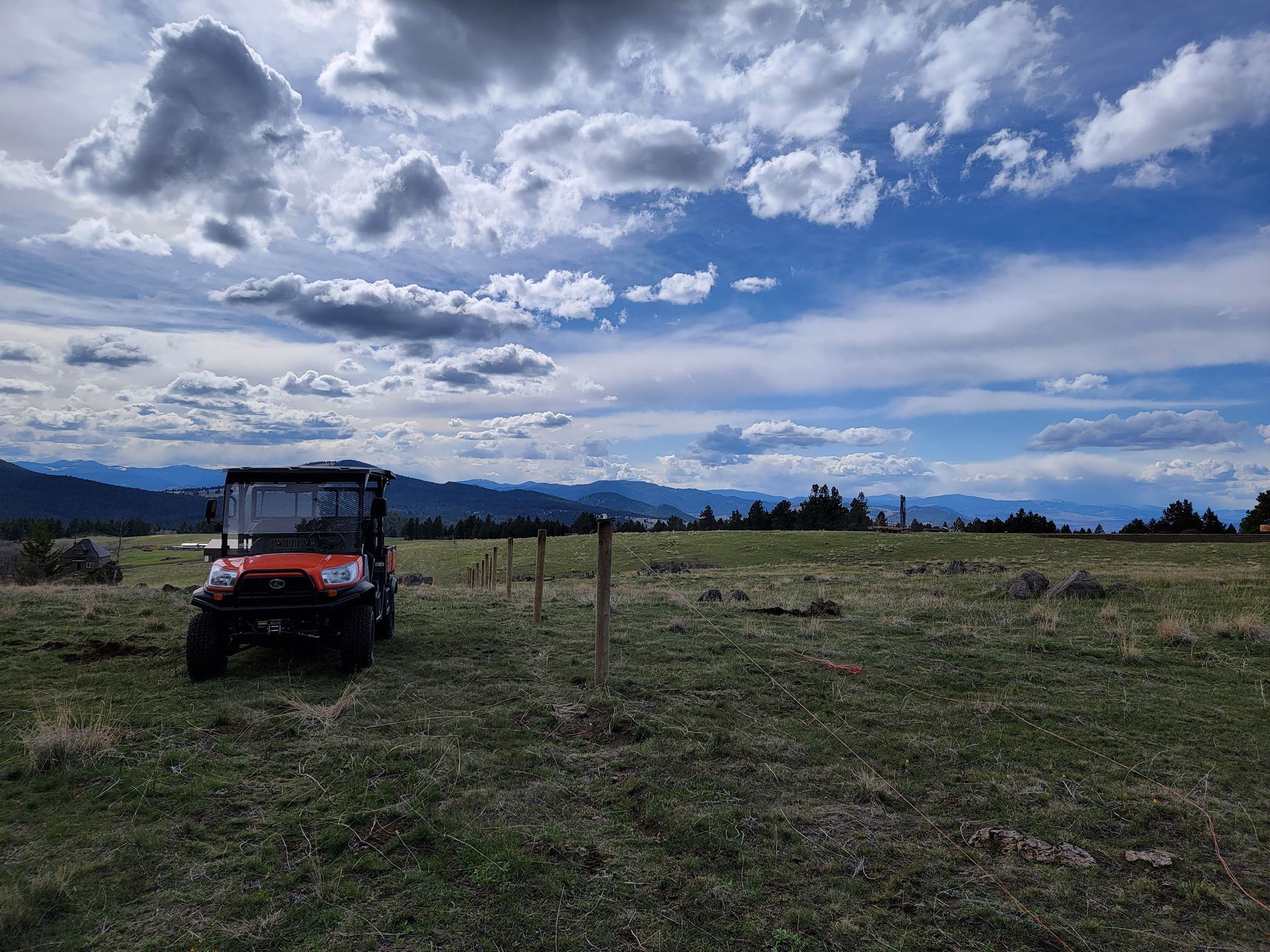 ---
1916 Sears & Roebuck's Kit Home
The most challenging part of the project so far has been the old homestead. This was an old 1916 Sears and Roebuck's kit home.  It was ordered out of a catalog and shipped out to Montana via railroad.  I hated to take it down, but it was taken over by gophers and right in the view of our new home.  We did salvage a lot of the wood and plan on incorporating some of it in the new house.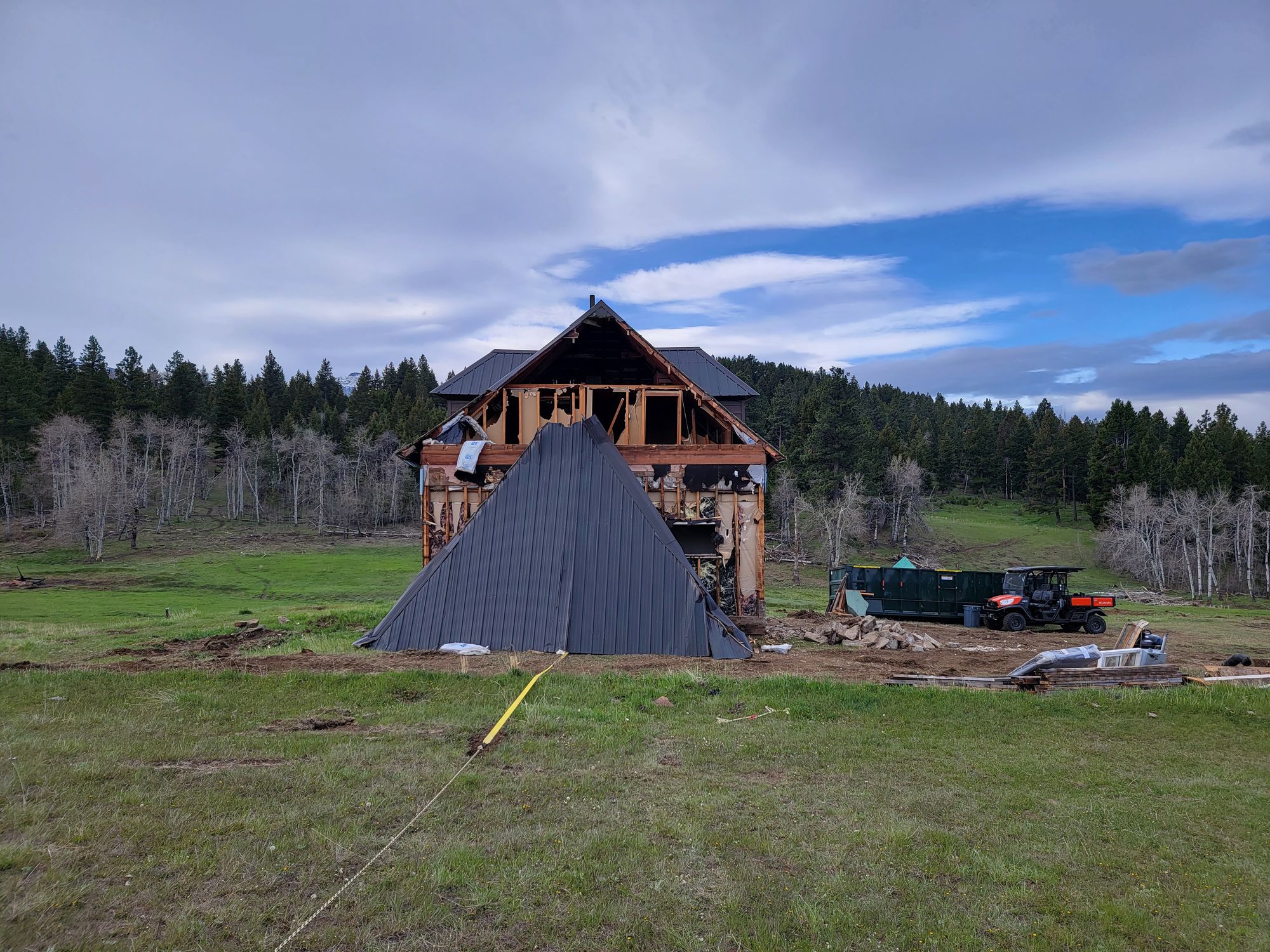 Whiskey 7 Ranch Video (future)
I am writing this in July of 2022 as I just returned from a week at the property. I took some time and filmed a YouTube video tour of the entire property.  It starts at the front gate and shows the fencing, barn, top of hill views, pond and new/old home sites.  
---
Animals
One of the best features of our new property is the vast number of animals that visit.  In 7 days, last week, I saw a bear, moose, herd of elk and more deer than I could count.  I did not get a chance to take a picture of the bear, but it is the same one that my neighbor captured on his game camera below.  The moose I filmed one morning as I was having coffee.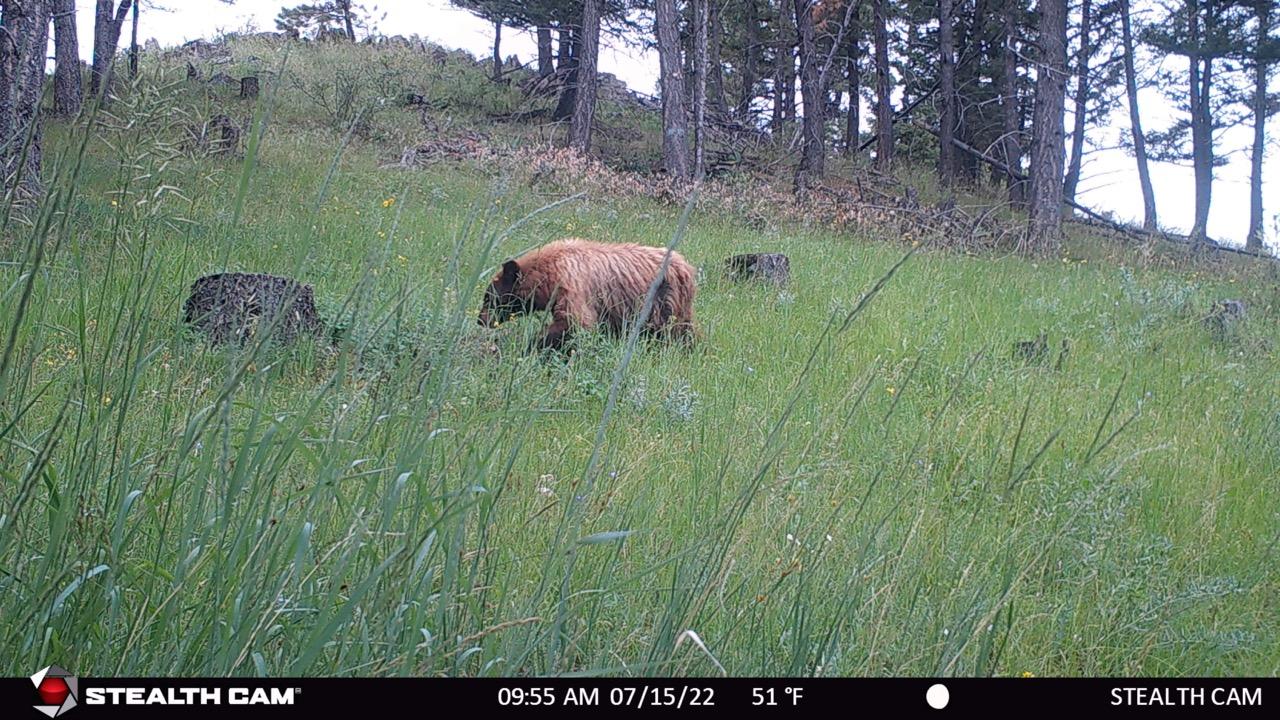 ---
Conclusion
Our plans are to continue to build the Whiskey 7 Ranch over the next 3-5 years. We don't know exactly when we will retire and move to Montana.  It has been a fun project so far and we look forward to sharing the rest of the build with you.  
Thanks
Brent & Cheryl Conklin
Whiskey 7 Backroads and Ranch

Harvest Host
Get 15% off your Harvest Host Membership
---
---