Where is it?
Brooks Falls is in the Katmai National Park in Alaska. The park was established in 1918 to protect the region that had been devastated by volcanic activity. Although the park protects many years of human history, it's mostly known for its thousands of brown bears. Brooks Falls is a part of a mile long stretch of the Brooks River where sockeye salmon migrate upstream to spawn.
---
How to get there
You can only get to the Katmai National Park Preserve by float plane. The float plane that took us to Brooks Falls on our visit was a plane from Rapids Camp Lodge in King Salmon, Alaska. The flight was approximately 20 minutes from the lodge, traveling over the Alaska tundra. The video below is from our flight.
---
The Bear Cam
There is a bear cam that runs 24 hours a day, 7 days a week. It also has a link where you can vote for the fattest bears!
---
Our visit
When you arrive, you have to go thru mandatory "Bear School".  These are classes put on by the Park Rangers and are the rules for visiting the falls. After the class, the hike out to Brooks Falls is about 1.3 miles. It's a fairly skinny trail and there are bears around. I decided that I was going to stay close to the only man in our group that had a gun. On the trip out, there was a man that was stopped on the trail. He was warning us of a bear close by. The bear walked across the path in front of us and into the trees, not paying us any attention. The video below shows just how many bears were at the falls the day we visited.
On our visit the bears where out in full force. There are platforms to watch the bears from. These platforms are close to the river where the bears are trying to catch the fish. The Park Rangers are on these platforms to manage the people and answer questions. The bears were sometimes below the platforms only about 6 feet away!!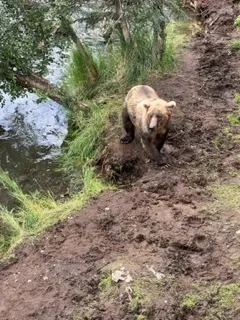 The video below will give you a little more perspective on how close the platforms are, you can see a couple right in front of me.
---
Conclusion
We had a great time at Brooks Falls. I would recommend it to anybody visiting Alaska. After our visit, we continued to watch the bear cams and could not believe how fat the bears have gotten! I can't wait for our next Alaskan adventure.
Thanks
Gloria Shaw
---
---